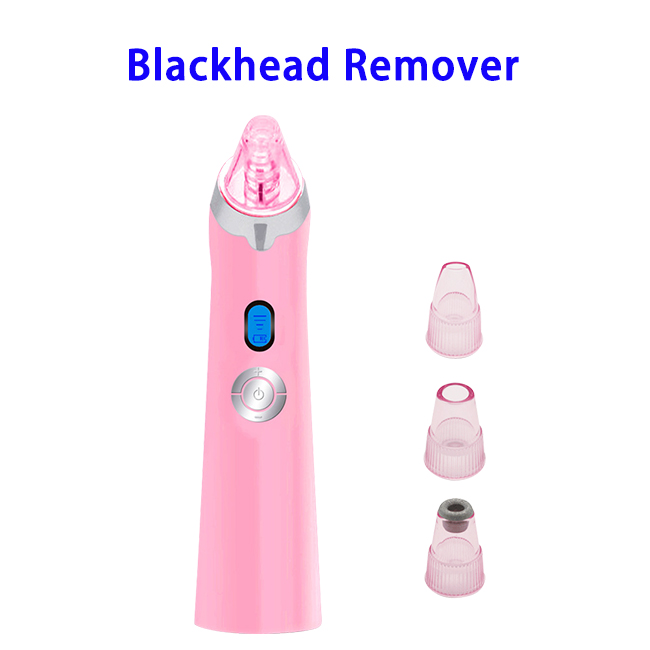 FDA Approved 4 in 1 USB Rechargeable Facial Pore Cleaner Blackhead Remover Vacuum (Pink)
Item NO.:
O-BR-16831B
L/T:
1 - 3 Days
MOQ:1
Designer:Mark
Buy more, save more
Sample

2-49

50-199

200-499

500+

Large order

$

13.00

$

12.65

$

12.41

$

12.17

$

11.82

inquiry
Features and Specifications
Packing information
FDA Approved 4 in 1 USB Rechargeable Facial Pore Cleaner Blackhead Remover Vacuum
Product Name: Blackhead Remover;
Certification: FDA, CE, RoHS, FCC, MSDS;
Material: Eco-friendly material ABS+PP;
Input voltage: 5V;
Input power: 5W;
Battery: 900mah;
5 gears for choosing;
Updated version for Vaumn Suction through careful research for a long time, and the shape is very slim, looks delicate and cute, and very easy to hold with no efforts. It has adopted eco-friendly material ABS , using a physical means to resolve various skin problems without any chemicals;
This Facial Pore Cleaner has 4 removable probes with different intensity of suction, you could choose it to remover blackhead or other blemishes and facial skin problems properly according to your own needs;
The pore vacuum cleaner can effectively resolve these skin problems such as coarse pore, rough skin, dark skin, blackhead, pore of skin and dirt nose; lift skin elasticity and make the skin tighten through the 4 replacement suction Probes tool in different shapes;
OEM service is welcomed.
5 Adjustable Suction Levels
Level 1 for sensitive skin
Level 2 for dry skin
Level 3 for natural skin
Level 4 for oily skin
Level 5 for mixed skin
4 functional Suction Probes
Small circular hole head with gentle suction is suitable for sensitive skin area.
large circular hole head with strong suction is perfect for T zone to remove stubborn blackhead, whitehead.
Oval hole head with micro pulling effect that smooths areas with fine lines including corners of eyes and mouths.
Dead skin exfoliation head with high adsorption for exfoliating keratin and dead skin.
Using Method
Step 1: Replace different suction heads according to your needs.
Step 2: Please use hot towel or steamer for about 5 minutes to open the pore.
Step 3: Move the blackhead cleanser back and forth around the pore, do not leave it on the same pore in case of skin bruise.
Step 4: After washing your face, please use ice towel or cold water to shrink pores.
Warm Tips
Do not use it over 5 minutes a time to prevent from skin damage.
Do not stay on one place too long to prevent from purple and red skin.
Do not use it if your skin is broken and damaged.
Dry skin use it once a week, oily and mixed skin use it twice a week.
Do not wash the blackhead remover body, it is not waterproof.
It is normal that your skin will be a little red after using, the red will disappear in 5~10 minutes.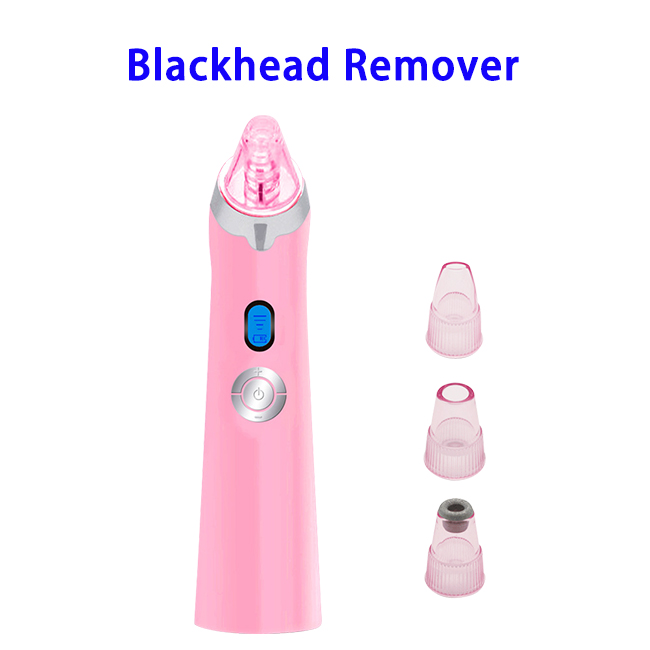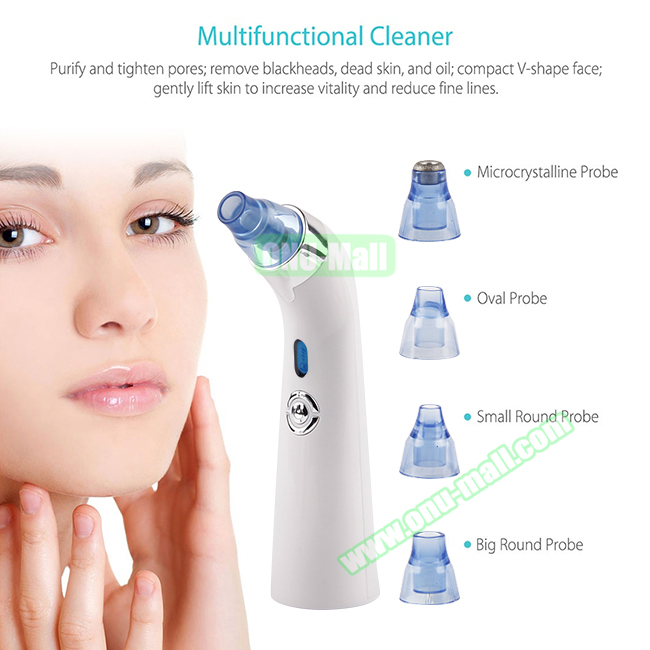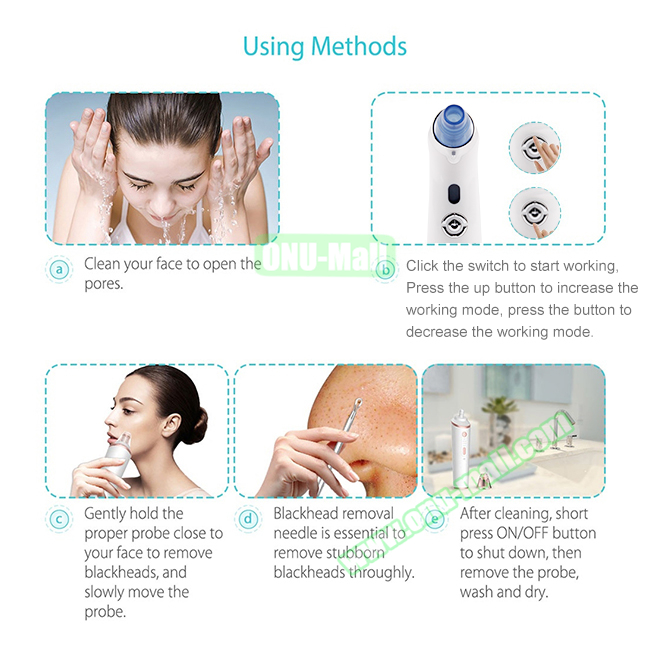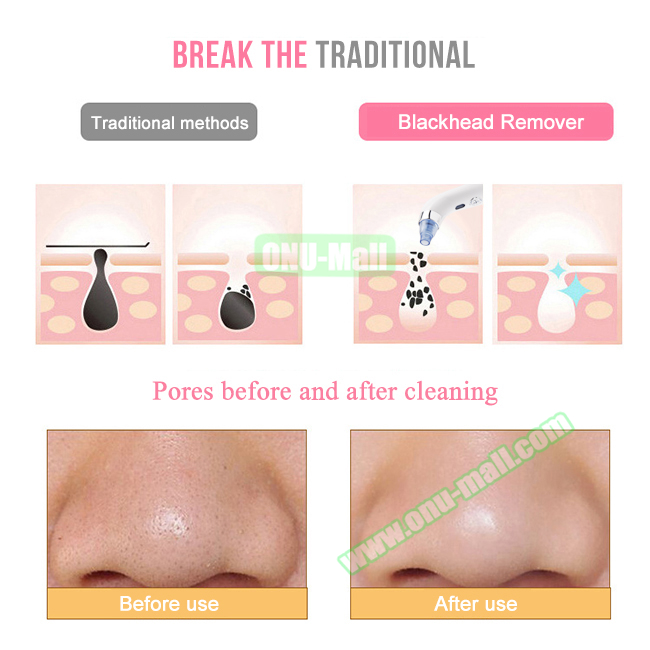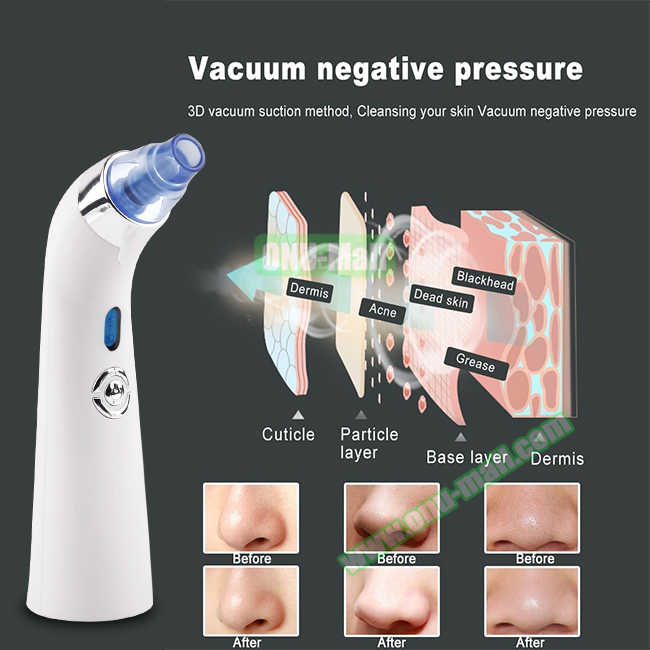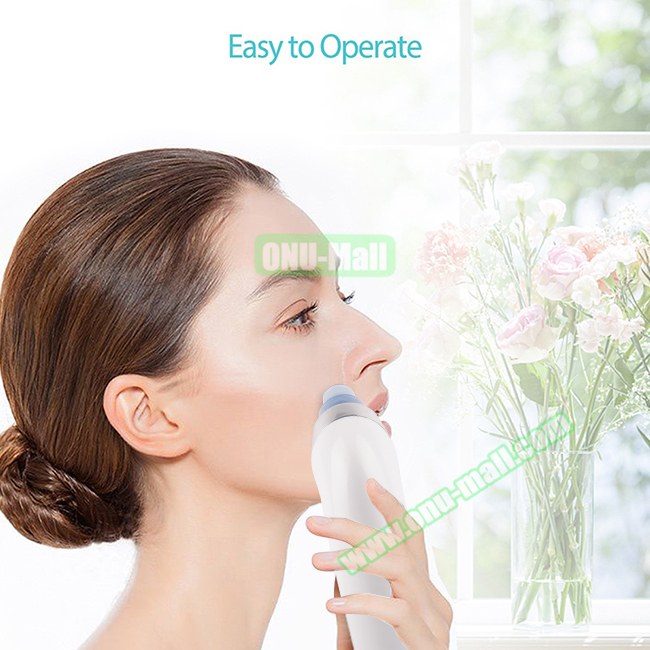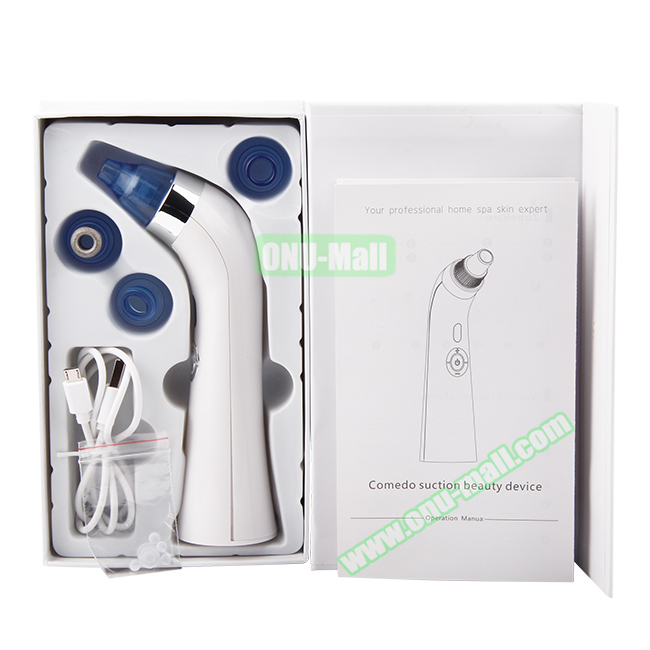 Packing Information :
Q'ty/Carton :50 pcs
Carton G.W :19.500 kgs
Carton Size :63.50 * 43.00 * 30.00 cm